"Great Tips to find a job as Designer or Developer"
Look for design work or are you looking for additional freelance jobs? Linda offers an easy reference for designers, developers and creatives to find jobs on the Internet.
Money is the Root of All Freedom
Face it – with money, you can pay the rent or mortgage, or you can buy an iPad, a new computer or a 24" screen with that extra money. With money, you have freedom to keep creditors away and to live the life you want (or donate it to help others live life). And, with the addition of Brian Wood to the DMXZone.com staff (congratulations, good to meet you and good luck, Brian!), I figured it was a good time to offer some places to find design, developer or creative jobs on the Internet.
The best way to find a job quickly is to read ads carefully – make sure that the employer has included job specifics, hours, the willingness (or not) to work from home and a ballpark salary (according to experience). If the employer has included at least that much information, then you can evaluate the job offer to determine whether or not it's worth your time and effort to apply for the job.
In the meantime, you might peruse the following sites to get some ideas for your resume and how to survive and interview. Once you've applied for a job and you've been recruited, you might re-read How to Evaluate a Job Offer here at DMXZone.com.
One thing to remember about the interview: The employer is interested in hiring a good person for the job. When I began hiring, I realized some of the mistakes I made as an interviewee. Hiring people helped me to become better with my own interviews. In sum, think more about the person who's interviewing you than you think about yourself during that interview, and you may be successful.
Whatever you do, don't lie about your accomplishments and don't lie about your capabilities – especially as a designer or developer. The last thing an employer wants is to be fooled. If you can't perform every job demanded, be honest about your shortcomings – but be sure to follow up with your strengths. It's all about yin and yang.
Where to Find Jobs Online
The following list of places where designers, developers and creatives can find jobs is categorized, and each link is listed alphabetically within those categories. I don't favour any one job site over another, in other words.
Graphic and Web Design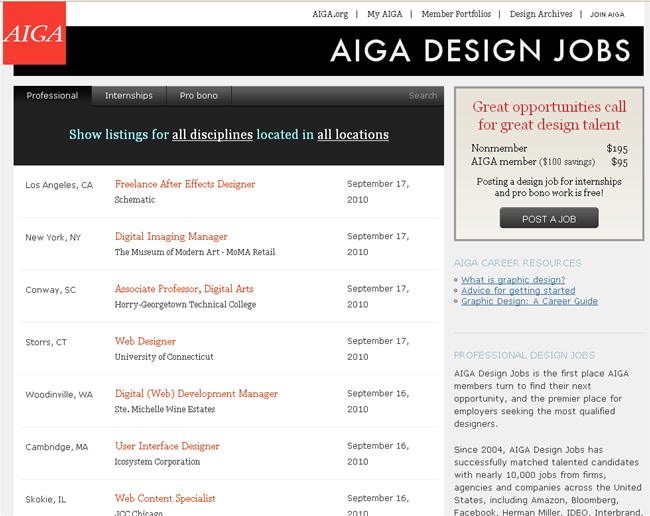 1.AIGA Graphic Design Jobs: This link leads to professional, internship and pro bono design jobs at AIGA. Be sure to check out the resources listed in the right column, and use the drop-down menu to browse through Web design, advertising, interaction design and other design jobs listed at this professional design organization.
2.Authentic Jobs: You can find new design jobs listed here every week, as Authentic Jobs is targeted to Web and creative professionals.
3.Boxes and Arrows Jobs: Currently, this job board focuses on Web design (such as UI) and usability specialists.
4.CrunchBoard Job Board: Mostly tech jobs, but you can find everything Web-design related from marketing to project managers and designers.
5.Design Jobs on the Wall: You might find a few design jobs here, but the majority of jobs focus on Web design and development.
6.Freelance Switch: Although this link is to design jobs, you'll find a focus here on Web design and development.
7.GD Jobs: Although the focus at this site is graphic design, many of the jobs focus on Web design and development.
8.Job Openings Graphic Design: This site carries graphic design jobs (as well as art and drafting jobs), hopefully. They list by employer. Currently, 3M is offering 520 jobs.
9.Sensational Jobs: Although this site bills itself as "The Job Board for Web Professionals," the site also carries some graphic design positions.
10.Xemion: Find your Web design and development jobs here!