App Connect Lightbox Support
Show your images and videos in a brand new way
Let's take your audience to the next level! App Connect Lightbox is the best solution for gathering pictures or videos in a common gallery. Remember, it's not just a regular modal stylish popup - you can get the best experience in visualizing images ever!
Customizable from top to bottom, that product is the right tool for your web project! Choose animated loading spinners, add titles, allow looping videos or just fell the swiping experience on mobile. Even more, the extension is fully integrated with App Connect and Server Connect, so that you can use dynamic data sources.
Do you want to show a single picture? No problem! Doesn't matter single image or gallery, add custom thumbnails to improve the user interface!

Highlights
New Wave of Lightbox Window


Light and powerful, that's the sprit of the trendiest Lightbox in the web! Full screen and titles available.


Collect Images in Galleries


Combine your images or videos in a gallery. Real estate gallery, photography portfolio, corporate page? It's all appropriate!

MP4 Video Support


Yes, you can add not just images but .mp4 video files. Give your pages additional interactivity!

Arrow Navigation and Loading Animations


Choose from 8 loading animations and feel the stylish arrow navigation.


Dynamic Data Sources


Use dynamic data sources to create your data-driven Lightbox galleries.


Swipe on Mobile


Not just running perfectly on mobile, but even more - swipe left or right to skip the image.


Linked Thumbnails

Link a custom thumbnail to every image.


Many Customization Options


Customize from top to bottom, even videos auto play or loop. App Connect and Server Connect are fully compatible.

Features
Collect images in galleries

It's easier than ever, in a brand new lightbox modal pop-up! Control the images by clicking on the icons on the both sides of the lightbox, with the hardware keyboard using arrows and Esc button.

Great swiping experience on mobile

App Connect Lightbox is not just responsive, but supporting swiping left or right on mobile devices. That's the best way to switch the current photo, on the top of your fingers.

Loading options

No more boring loading animations! There was only one type of spinner in the old version of the well-known lighbox (the white one, you know). Now - there are 8 options!

Highly customizable

Huston, we don't have a problem, App Connect Lightbox is under control! Select the preferred options and customize the extension according to your needs!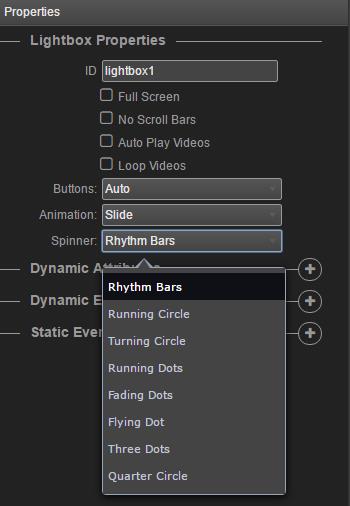 Showcases
History
Version 1.0.1
Improved touch swipe on mobile devices
Version 1.0.0
George Petrov is a renowned software writer and developer whose extensive skills brought numerous extensions, articles and knowledge to the DMXzone- the online community for professional Adobe Dreamweaver users. His expertise in countless languages and technologies gives inspiration and teach valuable lessons on his website – DMXzone.com which is most popular for its over high-quality Dreamweaver extensions and templates.
Reviews
Be the first to write a review
You must me logged in to write a review.