Bootstrap 3 Dynamic Form Generator 2 Support
Auto generate dynamic forms in seconds
Tired of creating mile long forms with a large number of fields manually? Well, we have a great solution for you, which will make these in a blink of an eye, while you sip your beer. It's called Bootstrap 3 Dynamic Form Generator 2 and is the next great addition to the Bootstrap 3 family. It generates full forms based on DMXzone App Connect data source or a Server Connect Action file inputs.
Ideal for quick and easy form generation for forms to be used with DMXzone Server Connect and DMXzone App Connect.
The extension requires DMXzone App Connect, DMXzone Server Connect, DMXzone Bootstrap 3 and Bootstrap 3 Forms Designer!

Highlights
Generate Dynamic Forms

Auto generate forms for your database inserts and updates.

Turn Any Data Into a Form

Quickly produce your forms from DMXzone App Connect or Server Connect data source.

Amazing Bootstrap 3 Forms

Extend the power of Bootstrap 3 Forms Designer in seconds.

Autobuild Dynamic Form Inputs

Rich selects, checkboxes and radios with values from bindings.

Server Connect action as source

Choose any existing insert or update database actions to generate your form!

Easy Inspect and Regeneration

After initial generation, you can just inspect, make changes and regenerate your form!
Features
Auto create extended dynamic forms
Have a series of fields that are variable and driven by runtime logic. The form is automatically generated from your data source.
Super-smart field generation
Generated forms fields match automatically the required database field types so you don't have to match these manually. Of course, you can change the field type any time from the designated drop down menu.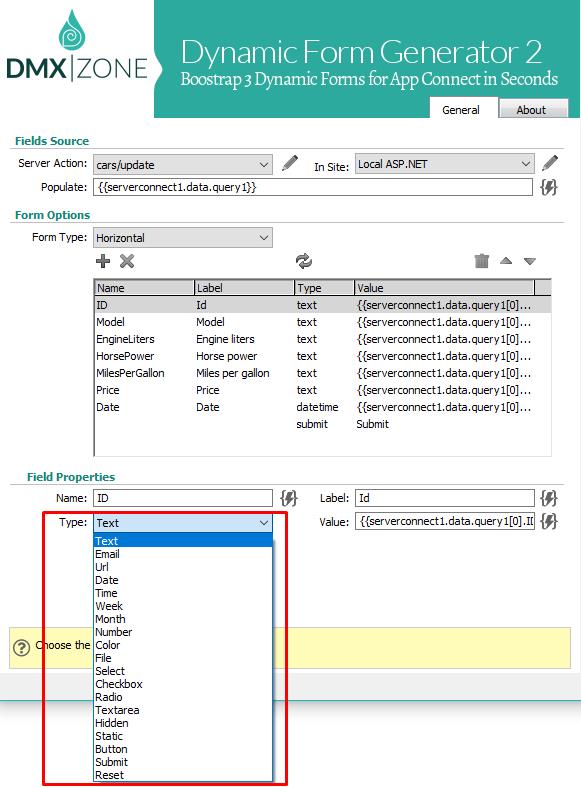 Various form types to fit your site
Choose between vertical, horizontal and inline form to fit your page.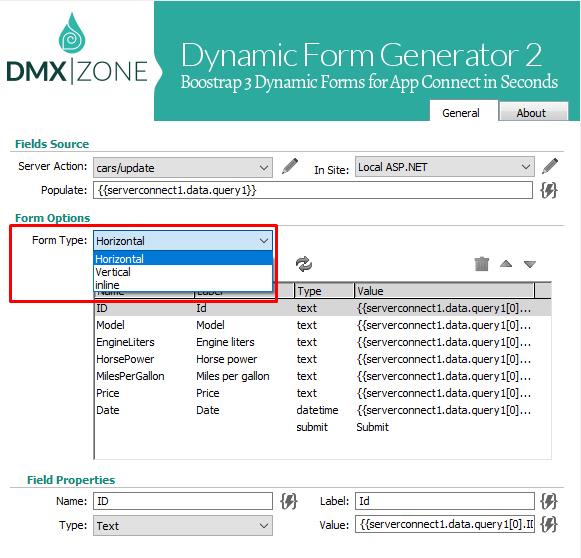 Great integration with Server Connect
Bootstrap 3 Dynamic Form Generator 2 works perfectly with DMXzone Server Connect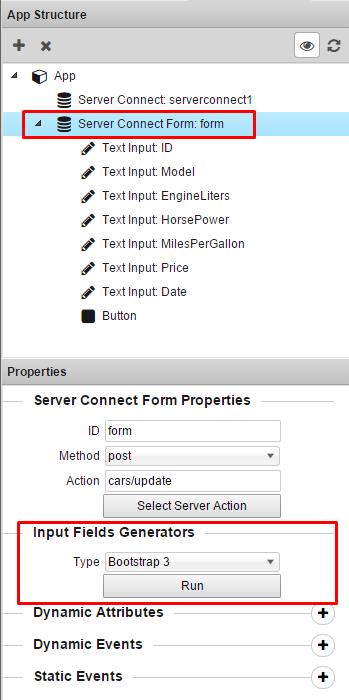 Showcases
History
Version 2.0.2
Added support for Multi Record form generation!
Improved date input control generation to be always date and not datetime
Version 2.0.1
Improved Bootstrap 3 Dynamic Form Generator 2, to preserve attributes on inspect of existing form
Version 2.0.0
George Petrov is a renowned software writer and developer whose extensive skills brought numerous extensions, articles and knowledge to the DMXzone- the online community for professional Adobe Dreamweaver users. The most popular for its over high-quality Dreamweaver extensions and templates.

George is also the founder of Wappler.io - the most Advanced Web & App Builder
Reviews
Time saver
I build data dashboards for a company every day all day for a company. So I build several forms a week. Building a firm in seconds saves a lot of time. Add that up over a full week or month and I have saved days in coding time. Worth having.
You must me logged in to write a review.