App Connect Bootstrap 4 Popovers Version 2 Support
Add stylish popovers like those found in iOS to any element on your site
Similar to tooltips, this great component allows you to add even more content. This is an elegant and modern way to provide your users with info popovers like those found in iOS, to any element on your site. It also gives you the opportunity to have a title and a header for your content.
Bootstrap 4 Popovers V2 can be used with dynamic data, thanks to the great App Connect integration.
Highlights
Enrich your content with Popovers

Add stylish popovers like those found in iOS, to any element on your site.

Title and content options


Include custom title and content for the popovers


Use dynamic data

Populate with any dynamic data


Different trigger options


Select whether to show the popover on hover, click or focus


Select position


Choose where to show the popover - top, bottom, left, right


Different dismiss options


Dismiss on next click or use the toggle element

Include rich HTML


Style the popover content with HTML


Great on any device


Popovers work and look great on all devices
Features
Add stylish popovers
An elegant and modern way to provide your users with info popovers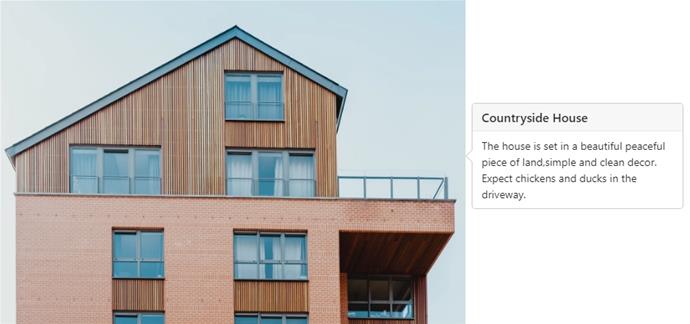 Great App Connect integration
It's really easy to add popovers to any element, thanks to App Connect integration. Add dynamic data easily!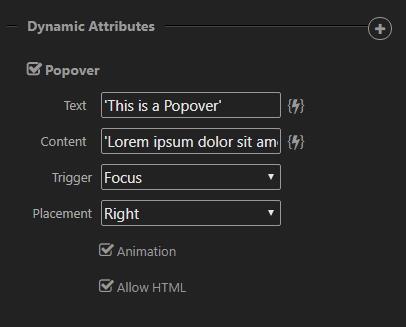 Animated Popovers

Enable animation for smoother show/hide actions
Show where needed

Select the position of the popover - left, right, top or bottom

Title and content

Popover includes a header with title and content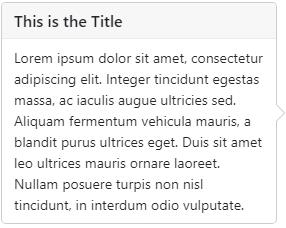 Rich HTML content
Use standard HTML tags to customize the popover title and content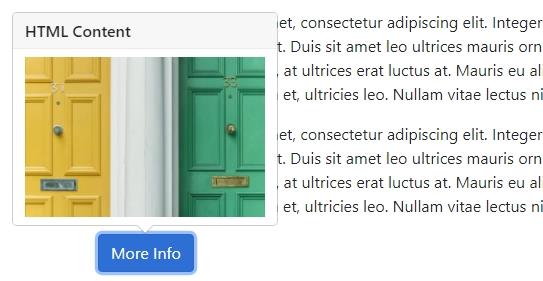 Showcases
Requirements
Product: Dreamweaver CC 2015+
History
Version 4.4.2
Latest updates thanks to the great Wappler community
Version 4.4.1
Updated Bootstrap 4 to the latest version 4.4.1
Version 4.3.1
The new major Version 2 release! Now with:
With a great new UI, Bootstrap 4 Popovers V2 is a modern pop-up box with header, title and content! Add popovers like those found in iOS, to any element on your site! Setup title, content, animation and trigger options, use them with static or dynamic data.
All of this, thanks to Wappler and its awesome community!
Redesigned UI - Bootstrap 4 version 2 comes with a totally redesigned, modern and easy to use UI
Revamped UI Controls - Easily adjust properties like size, offset or order using slider controls. Just drag the slider to adjust!
New Flexbox Controls - Adjust the direction, align, justify content and other Flexbox options by simply clicking an icon.
New Content Layout Presets - Select a layout template for columns and rows! Just click on any of the icons to select a preset.
New Rich Text Styling Controls - Visually adjust options like align, font weight, text transform, text styling or color
New Visual Margin and Padding Controls - Click and drag the margin and padding controls in order to select a value.
New Content Templates - Quick start Content Templates offer you different forms and inputs fields, content elements and footers with a single click!
Auto Detect Device Size - The device size selected in Dreamweaver is automatically detected and the adjustments will be added for its media query only. Icons in the properties panel show what device size are you working on currently.
Version 4.1.3
George Petrov is a renowned software writer and developer whose extensive skills brought numerous extensions, articles and knowledge to the DMXzone- the online community for professional Adobe Dreamweaver users. The most popular for its over high-quality Dreamweaver extensions and templates.

George is also the founder of Wappler.io - the most Advanced Web & App Builder
Reviews
Be the first to write a review
You must me logged in to write a review.