Dynamic Flash Gallery Manual
Before you can use the extension make sure that you've created a Photo album with Flash Album Generator 2 and that you have Installed the latest version of Flash Album Generator 2.02 Furthermore you need to install the PHP or ASP versions of Pure Upload and Smart Image Processor depending on what server language you use.
Open your Flash Album and open the extension by clicking on the Commands menu in Dreamweaver and choosing the Dynamic Flash Gallery (PHP or ASP) option. Or by pressing the

icon in the object pallet in the Common bar.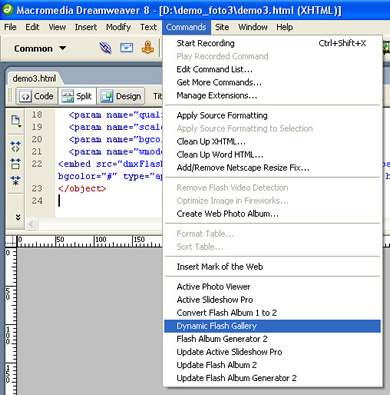 A new dialog will appear, we'll start by filling in the Security options.
Enter a Username and password that the user needs to enter to manage the online gallery.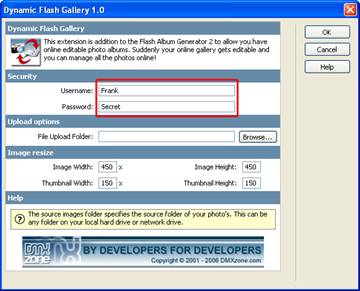 Next we choose the File Upload Folder. You need to select the Folder that you've used in Flash Album Generator for you resized images (the Destination Folder in the Flash Album Generator 2 extension). In this case that a folder with the name " img" .
It is very important that you set the permissions of this folder on your server to read and write!
For PHP users: please read the article about setting the folder security for your server for PHP
For ASP users: please read this article about setting the folder security for your server for ASP .
Note: for ASP users,make sure the also the ASPNET, IUSR_xxx and IWAM_xxx user accounts also have full permissions to the upload folder. See this FAQ and this one for more information. Also if you're wondering how to make sure your server can do an image resize please read this FAQ for more information.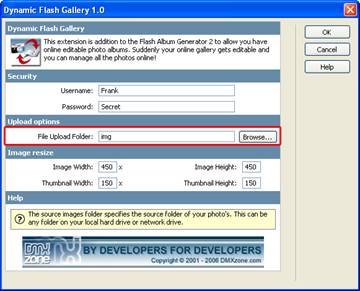 Ok that's it, press the OK button to create your Dynamic Flash Gallery. Depending on your previous actions you'll get one or more dialogs. Be sure to read the dialogs carefully as they contain important information.
The first dialog that appears states that an SWF and PHP or ASP file are created and that you need to upload these to your server.

When your XML file is not in the folder that contains your resized images you will get a message that the XML file is modified and is copied to the resized images folder.

If the support files (that are created by Pure Upload) are not in the general ScriptsLibrary folder yet you'll get a dialog that states that these files are copied.

That's it, the next chapter shows you how to manage your gallery online.