Free! - Optimizing your Web Site for Search Engines
Introduction to Search Engine Optimization (SEO)
How can your website rank better than your competitors so it will be noticed by its target audience? This is where SEO comes in. Search engine optimization is the process of increasing the amount of visitors to a web site by ranking high in the search results of a search engine.
The higher a Web site ranks in the results of a search, the greater the chance that that site will be visited by a user. It is common practice for Internet users to not click through pages and pages of search results, so where a site ranks in a search is essential for directing more traffic toward the site.
We assume you are familiar with basic HTML as this is required for SEO activities.
So wrap up your sleeves! It's time for you to optimize you web site.
Search Engines
Google and sites using Google's results make up around 50% of the Internet search market on their own. In other words if you only target Google then you're missing nearly 50% of the market!
Although this article mainly focuses on Google it also takes search engines like Yahoo! and MSN into account. This nearly doubles the search engine traffic you can target with minimal effort - imagine what that could do for you! Below is a search overview from 2007, although Google is gaining popularity and there are some shifts, you'll see that the other search engines are still important.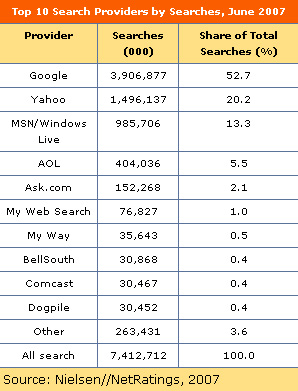 How the search engines work
Search engines are text-driven and crawl the Web, looking at particular site items to get an idea what a site is about. The disadvantage of search engines is that they won't appreciate a good design or enjoy multimedia content.
Neither are they capable of giving a real time update of your site changes as they need to monitor billions of other sites as well. During this time your SEO efforts will not be rewarded. Unfortunately there is nothing you can do about this. But you can see what a crawler sees from your site by using a Spider Simulator. If your site is not viewable, it will be non-existent for search engines.
When a user uses a search engine it compares the search string that the user has entered with the pages that are indexed in the database. While doing this the relevancy of each of the pages in is calculated.
Each search engine has its own algorithm to calculate this relevancy. Relative weights for common factors like keyword density, links, or metatags vary per search engine. That is why different search engines give different search results pages for the same search string. These algorithms also change regularly so if you want to keep at the top of the search results, you also need to adapt your pages to the latest changes. SEO is usually a continuous process.
The last step in search engines' activity is retrieving the results. Basically, it is nothing more than displaying them in order of relevancy.
Why SEO should be important to you
The ultimate goal is to make your website appear on the first pages, if not the first page of a search engine's result. This will increase the traffic to your site.
Consider what it would be like if no one could easily find your place of business, or even your telephone number. Most businesses could not continue for long in such a situation. The same thing can happen with your web site if people cannot easily locate it.
Link Building
To find out how to get between those first few precious spots in search engines, ask yourself the following questions:
As link building is one of the most important aspects of SEO, can I put links between related posts on my page or other websites that I might own? Make sure to put anchor text to your links. The text that is immediately before and after the anchor text also matters because it further indicates the relevance of the link.
Can I write guest articles for other sites that link back to it? Sites like DMXzone.com, FLzone.com, FWzone.net, CFzone.net and other communities allow you to post tutorials. As these sites have a high ranking in search engines, their links are very valuable. Make sure to post quality content or the post might not attract a lot of readers or won't even be approved.
Can I get on relevant social news sites (Digg clones) or StumbleUpon.com? These sites can easily double the traffic to your site. The origin of inbound links are important if the site that links to you is a reputable one or not. Generally sites with greater Google PR and .edu and .gov sites are considered reputable and thus important. The older the links, the better they are.

Do I have friends who will link back to my site?
Are there popular resource sites that can link to me?
Reviews
Be the first to write a review
You must me logged in to write a review.