Creating a Gallery in WordPress without Plugins
...or use some really good ones that actually work
In this article, Linda shows how to create a simple gallery within WordPress without plugins...but she also points readers to plugins that really work.
From Image Uploads to Full-Blown Galleries
You already know how to upload photos to your Media Library if you've read the previous WordPress (WP) articles here at DMX. If you've learned how to build a library in an efficient manner by uploading a large version of each image you might want to use and naming those images appropriately, then you may be ready to build a gallery.
If you have tons of images and if you wanted to build a PhotoBlog, you probably looked at tons of templates and plugins that can help you with that endeavour. But, if all you need is a simple gallery, WP offers a way to accomplish this goal without plugins. You won't get all those fancy effects like swipes and slides, but you can please yourself with a gallery that doesn't screw up and that offers an easy way for viewers to see your images.
For illustration, I'm using a client site that contains galleries of images that were taken over the years in sailing 'adventures' throughout the Caribbean. So, in building her galleries, I can show you – step by step – how this gallery-building in WordPress is accomplished.
Building a Gallery Post
I'm using posts for this gallery, rather than pages, as the layout for the site (Island Sailing Adventure) demands posts for the front page. The front page is a static page built from a Hybrid News template.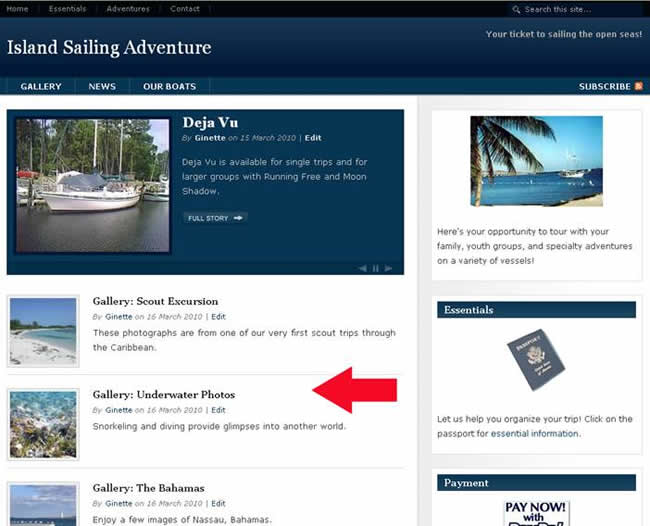 The arrow above shows the list of galleries I've already built for this site. The next gallery to add to this site is entitled, "Snorkeling a Shipwreck."
NOTE: When you add posts to your Web site, remember that you are 'pinging' search engines to let them know you've added a post. You can adjust this so that you are not pinging by several means. One is to go to "Settings > Privacy" and click on the "I would like to block search engines, but allow normal visitors" option for a temporary shut down. Another is to remove all the 'ping' options from "Settings > Writing" at the bottom of the page under "Update Services." Simply copy and paste those services to a notepad so you can replace them later.
Ping services do not like posts that are less than 30-minutes to an hour apart.
Once you've finished your postings, you can turn your privacy settings back to public and replace all the ping services you had in the Update box.
Creating the Post
The first step in this gallery process is to create a new post. Once that post page is open, title your post and begin to add photos. You cannot create a gallery without photos, so if you are using photos for the gallery that have not yet been uploaded, you need to go through that process.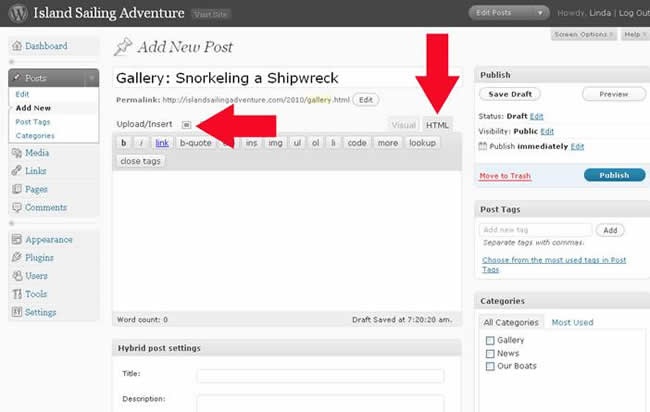 In the image above, I've titled my post and I'm ready to add images. Note the arrow pointing to the left...this is the icon I'll use to upload images that now are on my hard drive in my computer. The arrow that points down shows that I am in the HTML option for writing posts. The only reason I like to be there is so I'm not distracted by the actual images while I'm building the post gallery (I'm easily distracted).
Linda Goin carries an A.A. in graphic design, a B.F.A. in visual communications with a minor in business and marketing and an M.A. in American History with a minor in the Reformation. While the latter degree doesn't seem to fit with the first two educational experiences, Linda used her 25-year design expertise on archaeological digs and in the study of material culture. Now she uses her education and experiences in social media experiments.

Accolades for her work include fifteen first-place Colorado Press Association awards, numerous fine art and graphic design awards, and interviews about content development with The Wall St. Journal, Chicago Tribune, Psychology Today, and L.A. Times.
Reviews
Be the first to write a review
You must me logged in to write a review.