Blogger: A blogging option for novices and pros
A new look at Google's Blogger
In this article, Linda takes a new look at Google's Blogger as an option for eliminating self-hosting.
A New Look At Blogger
I wrote an article a few weeks ago about choices for blogs outside the self-hosting option. I completely ignored Google's Blogger until this past week, when a few authors mentioned how easy it was for them to set up a blog on Blogger. I assumed that Blogger was fairly amateur until I took a second look – the options for professional blogging are astounding.
If you are seeking an option for a blog outside self-hosting, you might consider Blogger – especially if you want to monetize your blog, use customization, utilize a custom domain and have the ability to "blog on the go." In fact, Blogger may become your weapon of choice for blogging – if you understand all the pros and cons in using this tool.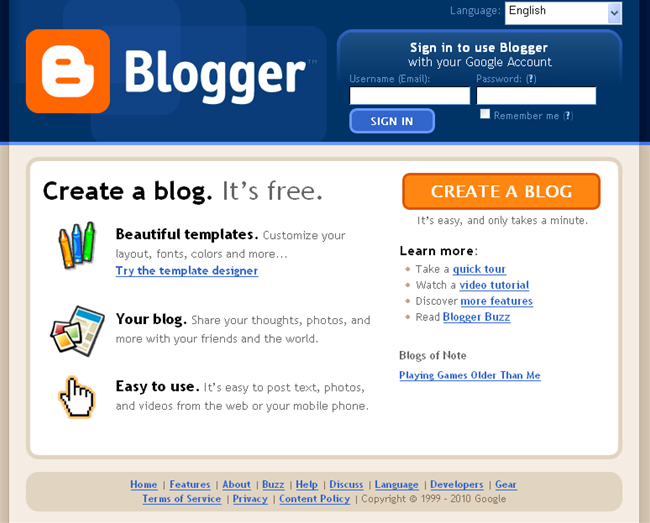 Blogger for Beginners
One of the reason those authors liked Blogger was the fact that it was free to use. Additionally, Blogger's help files were handy and an introductory video was succinct and to-the-point. They also were pleased to find the forums, which touched on just about every question they had about creating a blog at Blogger. The only problem they seemed to have in setting up Blogger was in understanding that they first needed to obtain a Google account.
Understand that many of these novice bloggers had no clue about how to open a new tab on their browser or how to open a Google account. Additionally, many of these new bloggers carried a reticence about creating a Google account in the first place – some of these individuals were frightened about privacy issues, and they may not have had false fears.
Google, like any other free account, often pushes the boundaries on issues such as copyright, privacy and censorship. But, like any other free account, users might balance what they consider "issues" and what they're willing to give up with the ability to use a free account. Some of this balance comes with what Blogger offers to their users. And, you might keep this in mind:
On December 2009, Google's CEO, Eric Schmidt, declared after privacy concerns: "If you have something that you don't want anyone to know, maybe you shouldn't be doing it in the first place. If you really need that kind of privacy, the reality is that search engines – including Google – do retain this information for some time and it's important, for example, that we are all subject in the United States to the Patriot Act and it is possible that all that information could be made available to the authorities."
Finally, take a look at Blogger's TOS (Terms of Service) to make sure you can live with their policies. Also preview the privacy policies for Google accounts. If you're satisfied, then open a Google account (if you do not already have one) and give Blogger a whirl.
Linda Goin carries an A.A. in graphic design, a B.F.A. in visual communications with a minor in business and marketing and an M.A. in American History with a minor in the Reformation. While the latter degree doesn't seem to fit with the first two educational experiences, Linda used her 25-year design expertise on archaeological digs and in the study of material culture. Now she uses her education and experiences in social media experiments.

Accolades for her work include fifteen first-place Colorado Press Association awards, numerous fine art and graphic design awards, and interviews about content development with The Wall St. Journal, Chicago Tribune, Psychology Today, and L.A. Times.
Reviews
Be the first to write a review
You must me logged in to write a review.