Learn Marketing (and create work) from Rural Development
Tips on how to market small business from – of all places – small towns
Linda reaches into the hinterlands to find tips on how to market small business from – of all places – small towns.
Alaska Community Tourism Handbook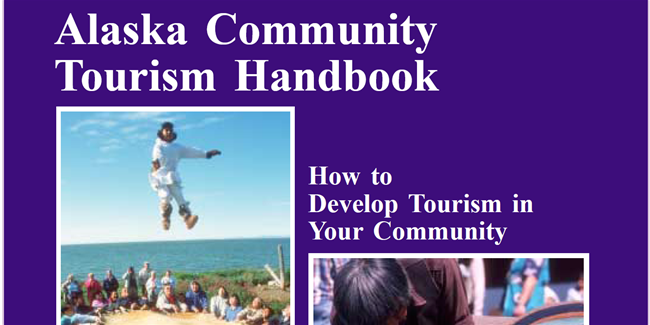 This Alaska Tourism handbook is a PDF file, and it speaks to garnering tourism business in Alaska. But, the important part of this paper for (small and remote) towns and (small and remote) designers and developers begins on page nine. At the bottom of page nine, look for a purple box that lists the "Five A's of Successful Tourism Development":
1.Attitude: "There is a saying that if a customer is pleased with the service they receive, he or she will tell three friends about the experience. But, if they are unhappy with their experience, they will tell TWELVE other people about it." Beautifully said.
2.Access: "Even if transportation to a smaller community is available only two or three times a week, visitors will come if they are sure about the schedule." In other words, let clients know when and where to find you.
3.Accommodations: Although this section focuses on providing accommodations such as a place to sleep and food, think more broadly – what can you offer your clients that the "big" guys cannot offer? More personal service? Faster turn-around?
4.Attractions: "Attractions do not have to be on the scale of Mt. McKinley to be a successful tourism draw." In other words, you need to have a way to pull in viewers, and you don't have to be all flash and bravado...a simple Web site that features your work, interaction on Facebook or Twitter and a personable open-door policy might work for you.
5.Advertising: "Never assume visitors will automatically hear about your community. Someone has to tell them, and that someone is probably YOU."
I think most of those points are self-explanatory. Although they are elementary, it never hurts to hear them over and over again...especially the attitude, access and advertising (even if it's public relations rather than paid ads).
Direct Farm Marketing and Tourism Handbook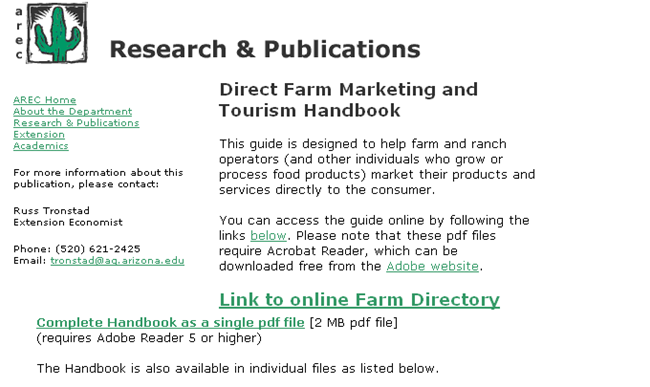 You may not be growing tomatoes for sale; but, if you have developer or design skills, you might think of those skills as fruits of your labour. Take a look at the list of marketing ideas offered by the Direct Farm Marketing and tourism Handbook. You'll find "Direct Marketing Alternatives" that might get some ideas flowing; "Business planning," that offers a variety of ideas on how to plan your own business, and "Market Analysis and Pricing," with tools that can help you seize a market with your skills.
Don't miss the "Advertising and Promotion" section to this publication, especially ideas on direct marketing. The direct marketing article has a list of ideas to follow for direct marketing and the fifth bullet states:
Fifth, make sure that the design is attractive. If you don't have a good eye for design, find someone who does. Often print shops will have employees with some design skills.
Hm...interesting. Perhaps there is a market for design in rural tourism, no?
Linda Goin carries an A.A. in graphic design, a B.F.A. in visual communications with a minor in business and marketing and an M.A. in American History with a minor in the Reformation. While the latter degree doesn't seem to fit with the first two educational experiences, Linda used her 25-year design expertise on archaeological digs and in the study of material culture. Now she uses her education and experiences in social media experiments.

Accolades for her work include fifteen first-place Colorado Press Association awards, numerous fine art and graphic design awards, and interviews about content development with The Wall St. Journal, Chicago Tribune, Psychology Today, and L.A. Times.
Reviews
Be the first to write a review
You must me logged in to write a review.