Twitter: An old friend dresses up for Halloween
What's new about Twitter
The timing is auspicious...Twitter dons a new face just prior to Halloween. Linda looks at the results and asks...Is it a mask or for real?
Twitter: Trick or Treating?
The image below shows Twitter as it appears to anyone who hasn't signed in to Twitter as a user. I want to point out four areas for your consideration: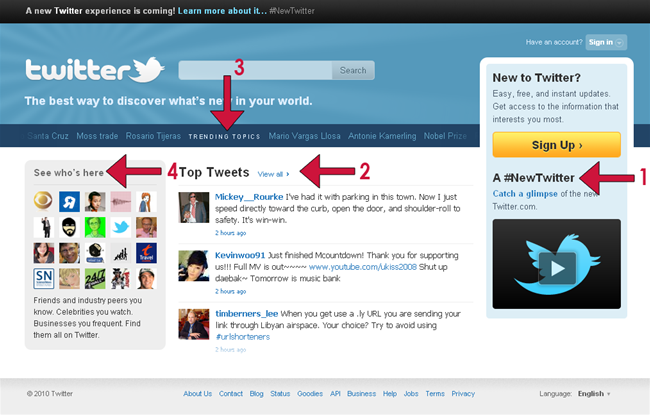 1.A #New Twitter: You might want to watch this video, which I thought was a clever mix of...well, cleverness...and cliché. But, just cliché enough to bring a smile. If you're a designer, take a close look at all the items where the Twitter bird is shown (for example, a book for stargazing).
2.Top Tweets: Scrolling in real time, the Top Tweets is a mix of celebrity and the unknown...but take a close look at who is scrolling on your screen, because you may find them elsewhere (I'll show you below).
3.Trending Topics: Instead of looking for this topic in the right column once you log in, the trending topics now scrolls like a news ticker below the Twitter banner. You can click on any topic to view the trending Tweets – and, those Tweets do not necessarily carry hashtags (I'll also expand a bit on trending topics below).
4.See Who's Here: Well, gosh – just who is here? You'll find friends and "industry peers" that you know and businesses that you may frequent. Interesting, right? Twitter is tracking you, so be aware of your privacy options with Twitter, just like you would with Facebook.
Now to expand on these topics to fill you in on how Twitter is going to alter your networking experiences.
But first, a look at the new double screen, this one from my Appomattox News Twitter account: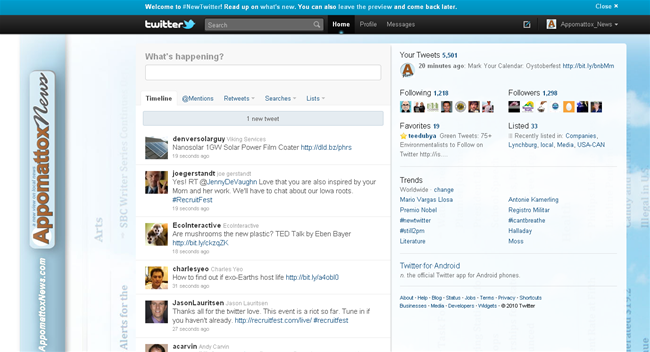 While the image above is difficult to see re: details, I'll bring those into focus below in the sections on "what's new" for Twitter users. Just note the big change – a double screen. Note that I'll focus on the details by mentioning the "left" and "right" sides of this double screen option.
A #New Twitter
First, you will find @mentions, retweets, searches, and lists just above your timeline, which creates a single, streamlined view on the left of the new double screen. On the right, you can see the features you're familiar with, including whom you recently followed and who recently followed you, favourites and Trending Topics.
Linda Goin carries an A.A. in graphic design, a B.F.A. in visual communications with a minor in business and marketing and an M.A. in American History with a minor in the Reformation. While the latter degree doesn't seem to fit with the first two educational experiences, Linda used her 25-year design expertise on archaeological digs and in the study of material culture. Now she uses her education and experiences in social media experiments.

Accolades for her work include fifteen first-place Colorado Press Association awards, numerous fine art and graphic design awards, and interviews about content development with The Wall St. Journal, Chicago Tribune, Psychology Today, and L.A. Times.
Reviews
Be the first to write a review
You must me logged in to write a review.