Designer Roots: 50 Art History Sites Worth Bookmarking
25 art history Web sites and 25 art history blogs worth perusing for insights
Art history might seem archaic and suffocating, but it also provides resources for inspiration. In this article, Linda provides links to 25 art history Web sites and 25 art history blogs worth perusing for insights.
From Cave Paintings to Style Skilling and Beyond...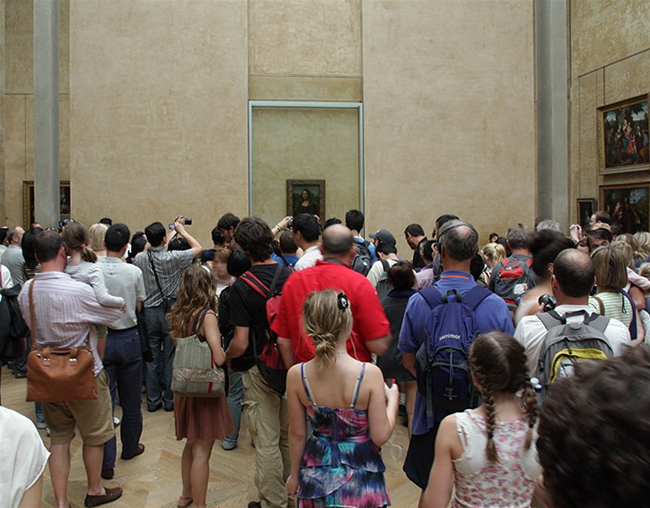 Unless you have a degree in visual communications, graphic design, or some other design program, you may not have thought much about your roots as a designer. While I'm not forcing anyone to learn more than he or she wants to learn, you might benefit from browsing through museums and art history books. But, if you cannot take time to do that much, then you might take a look at the 50 art Web sites and blogs compiled below.
The updated Web sites and blogs gathered for this list don't discuss graphic design all that much, and typography may not be mentioned until you reach the Dada Movement in fine art. But, as in any arts or design project, you will encounter the elements and principles of design as you browse through images and read blog entries. You may gain some insight into colour combinations, balance, composition and texture.
You also may gain inspiration that could dispel your designer's block. You may even decide that a trip to a museum is on your upcoming agenda. Viewing an original piece of artwork after seeing it in a book is an experience. Just ask anyone who has seen the Mona Lisa – that painting by Leonardo da Vinci isn't as large as you might think.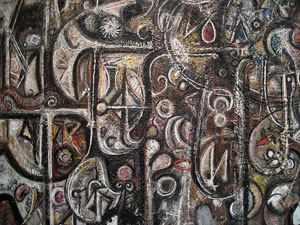 And, one day at an interview, when someone states that your work reminds them of abstract expressionism, you can look confused and state, "No, I'm totally into steampunk," or you can look sharp and state, "I've always admired Richard Pousette-Dart's work." (as in the image shown above)
That latter remark should turn some tables.
Art History Sites
The following list of 50 sites is divided into two categories – one for art history Web sites, and another for art history blogs. Both categories contain 25 sites worth browsing.
Art History Sites
1.Art History.net provides links to descriptions of various artistic styles and periods, including Neoclassicism, Medieval Art, and Surrealism. It provides information on different mediums, such as gouache and watercolor.
2.Hunt For Art History provides information about arts, artists and their creations organized by period, ranging from prehistoric to 20th Century American art. It covers different artistic styles and periods, including pop art, Romanticism, and Art Deco.
3.World Wide Arts Resources provides links to the biographies of over 22,000 artists, direct links to images in museum collections, and art news.
4.ArtHistory.cc has a large gallery of master painters' artwork, with biographies and information about the paintings. This site has a timeline that lets you explore the history of art by eras and movements within the larger scope of world art history.
5.Smarthistory.org is an open, not-for-profit, art history textbook. The site provides a timeline of art history from 400 CE to the 20th Century. It has an in-site search engine and links to the biographies of many different artists and discussions of each major artistic movement from the Paleolithic era onward.
6.Best History provides access to a number of art history-oriented resources online, in a wide range of categories. Sites with educational content are emphasized but general resources and research-oriented sites have been included as well.
7.Art cyclopedia provides roughly 95,000 links to 180,000 world masterpieces. Visitors browse over 8,200 artists by name, movement, medium, or nationality. It is also possible to search for art by title or search by world region to connect with the world's most famous museums from the Louvre to the Rijksmuseum.
8.CGFA: A Virtual Art Museum contains on-line pictures by a wide variety of artists such as Michelangelo and Monet with biographies. The site is searchable by artist's name. It lists the artists in alphabetical order.
9.About.com: Art History contains short artist biographies as well as more extensive guides to figures of the art world. The site covers everything from famous artists and their patrons, to famous models and forgers. You can also browse online overviews and timelines of artistic movements and user articles on art and culture.
10.Metropolitan Museum of Art: The Glory of Byzantium explores art from the two golden ages of Byzantium, 324-740 and 843-1261, as well as the late period. You can browse artwork arranged by theme or period or read historical notes and descriptions.
11.Cleopatra: Art History of the Ancient Worldis a multimedia guide to the Ancient Art Collection of the Art Institute of Chicago. On this website visitors can view art and artifacts from ancient Greece, Egypt, and Italy or browse artifacts on a timeline or by geographic region.
12.Modern & Contemporary Artists and Artdeals with the major modern and contemporary visual artists. Art is listed by technique, art style and art movement. Famous, established and emerging artists since 1900 are represented with their portrait, biography and/or portfolio, with links to web resources to find out more about them.
13.Social History of Art lists essays, lectures and bibliographies on Western Art with a focus on late Medieval, Renaissance and Baroque. It provides an on-line art gallery and bibliography section for further reading.
14.Art History Resources on the Webcontains links to information on art history covering everything from Prehistoric Art to the 20th Century. It is organized by geographic location, including Asian, Greek and Roman, and Celtic and other early European art.
15.The Art History Archive provides links to short biographies of famous artists categorized by medium, such as sculptors and photographers. It has information on a limited number of art movements and periods, including Cubism and Impressionism.
16.Native American Art, maintained by the non-profit organization Native Languages of the Americas, provides links to definitions and explanations of various art forms associated with Native American culture, including dreamcatchers, totem poles, and pottery, with a brief history of each.
17.An Introduction to the History of Graphic Design covers writing and typography from pictograms and handwriting through moveable type to digital printing. It includes book and poster design and advertising.
18.Beyond Books: History of Painting is part of a larger, education-based website, which provides a brief overview of art as a concept, and why humans create art. It covers art history from prehistoric cave painting to art in the 20th Century. Other sections cover non-Western art, including Chinese, Japanese and Islamic.
19.Heilbrunn Timeline of Art History provides a comprehensive timeline of art history around the world, from 8000 BC to the present day. This timeline has sections for North and Central America, Europe, Africa and Asia.
20.Web Gallery of Art is an on-line gallery and searchable database for European painters and sculptors from 1000 BCE to 1850 CE. This site includes examples of each artist's work along with a brief biography of each and commentaries on their work.
21.NGA Classroom: For Teachers and Students is an interactive website featuring a wide variety of study aids for both teachers and students. "Featured Resources" link to interactive pages on Self Portraits in Art, the Dutch Golden Age and more.
22.The Art Institute of Chicago: Art Explorer allows the user to search through an on-line version of the Art Institute's gallery of Impressionist and Post-Impressionist paintings. The site allows the user to search by the artist's name or by selecting them from a list.
23.The Art Institute of Chicago offers video and audio podcasts about the museum and its collection. Visitors may listen to audio podcasts discussing special exhibits, the lives of artists whose work is featured in the Institute, and explorations of individual works of art. The site also allows the user to view on-line art collections, searchable by subject.
24.Kidipede: Ancient and Medieval Art is a resource for middle-school students that includes an extensive section on art history organized by era and by categories of art, with separate entries for architecture, painting, sculpture and pottery.
25.The Metropolitan Museum of Art: Works of Art is an informational database that includes a searchable timeline of art history. This timeline provides links to works of art from the museum that are viewable on-line. It also provides links to thematic essays on art history that may be searched by geographic location or browsed.
Linda Goin carries an A.A. in graphic design, a B.F.A. in visual communications with a minor in business and marketing and an M.A. in American History with a minor in the Reformation. While the latter degree doesn't seem to fit with the first two educational experiences, Linda used her 25-year design expertise on archaeological digs and in the study of material culture. Now she uses her education and experiences in social media experiments.

Accolades for her work include fifteen first-place Colorado Press Association awards, numerous fine art and graphic design awards, and interviews about content development with The Wall St. Journal, Chicago Tribune, Psychology Today, and L.A. Times.
Reviews
Be the first to write a review
You must me logged in to write a review.