Data Mining Resources for Designers and Developers
Deals for designers and developers to mine their resources
Linda offers deals for designers and developers to mine their resources and to develop markets for products and services.
Tools for Data Mining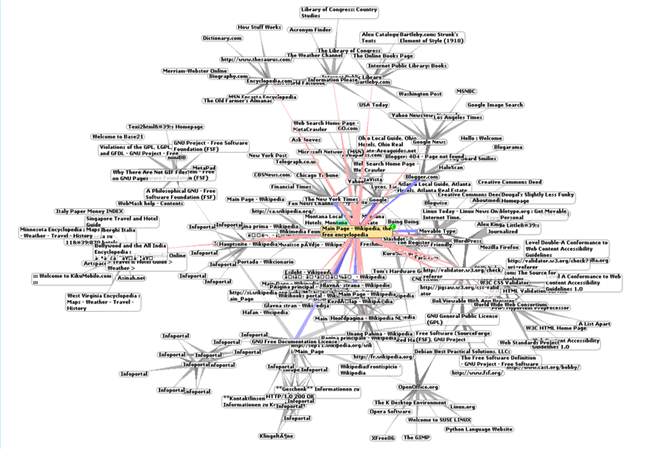 The image shown above is a data visualization of Wikipedia as part of the World Wide Web, demonstrating hyperlinks. Chris 73 created this image using TouchGraph GoogleBrowser V1.01, which is based on the related function of Google. This is just one tool in a global arsenal that designers and developers can use to formulate and forecast data.
But, if you're simply seeking a way to log all those business cards into a database, you might simply use Excel or, better yet, the open source speadsheet Calc, which is part of the OpenOffice suite. Students of both tools can learn how to extract information and compile new databases through both products. But, if you don't want that learning curve, you might try something simpler, such as Evernote.
The issue I have with Evernote is that it is impossible to analyse information from data, and difficult to transport to another data mining tool. Since data mining is all about analysing data, tools like Evernote just don't cut the cake. Extracting information is important as well, as you don't want to go through data input more than once if at all possible.
At the same time, you don't want to spend hours on data mining and analytics, as you probably have better things to do, and you probably cannot afford a person to do data input and analytics even on a part-time basis. But, if you have the money, time and help, you might look through the list of data visualization tools offered at Wikipedia. These tools are most closely aligned with visual perception, as they can create information graphics that can appeal to your sensibilities as well as help with client issues (TIP: You might be able to add the cost of any one of these products to the next client bill if that client expects analytics and forecasting.).
Fifteen Open Source CRM Solutions
CRM stands for Customer Relationship Management, and tools that offer this type of data input and analytics often cost and arm and a leg – suitable for corporations, but not for the lone eagle entrepreneur. However, some open source solutions exist, and – while not free – the cost is minimal for some spectacular results. That said, I am not endorsing any one of the tools listed below, as I have not tried them all. They are listed in alphabetical order to show my non-preference:
Since I'm a designer/writer and not a developer, I wanted a simple CRM solution for a nonprofit that I work with. In the end, we chose a non-open source application, Salesforce, as they offer free licenses to certain nonprofits. Additionally, the Web-based interface seems easy to use. Additionally, when I surfed to the site, a sales rep was ready to talk with me via instant message to resolve my questions quickly. Let's say I was sold immediately. Now, to convince the board to "come on board" to expand our nonprofit's future reliability, credibility and organizational savvy.
Linda Goin carries an A.A. in graphic design, a B.F.A. in visual communications with a minor in business and marketing and an M.A. in American History with a minor in the Reformation. While the latter degree doesn't seem to fit with the first two educational experiences, Linda used her 25-year design expertise on archaeological digs and in the study of material culture. Now she uses her education and experiences in social media experiments.

Accolades for her work include fifteen first-place Colorado Press Association awards, numerous fine art and graphic design awards, and interviews about content development with The Wall St. Journal, Chicago Tribune, Psychology Today, and L.A. Times.
Reviews
Be the first to write a review
You must me logged in to write a review.