Learn Marketing (and create work) from Rural Development
Tips on how to market small business from – of all places – small towns
Linda reaches into the hinterlands to find tips on how to market small business from – of all places – small towns.
Think of Yourself as a Small Town
I've been known to reach into some odd places to find marketing ideas. You might think this idea is the strangest of all, but – after looking through a few rural marketing sites, presentations and papers – I walked away with some ideas for marketing my own business. And, since I'm not one to keep things to myself (I think of myself as an open source venue), I thought I'd share some sites and ideas with readers.
No matter if you live in the U.S., Europe, India or any other country, you have rural development somewhere. Get your head out of the city for a bit and think about how difficult it might be for a small town to market itself, especially to tourists. The competition is fierce in areas where interstates or highways pass right by a town that is located between two larger cities. That small town or rural area must develop a plan to pull in tourism dollars – or to pull in new businesses – or that small town might shrivel and die.
Now, think of yourself as a small town. The competition is fierce for designers and developers, right? And, if you're flying solo, you also have to compete against larger agencies and established businesses that surround you. How do you stop potential dollars from flying by on a figurative highway on the way to a larger business?
You don't need to reinvent the wheel – just take a look at some of the links I've gathered below to harvest some marketing ideas. The idea of thinking of yourself as a rural area (or – hint, hint – marketing yourself TO a rural area) just might work. The real advantage? Getting out of the urban rat race into a pace that feels more like community.
Rural Tourism Marketing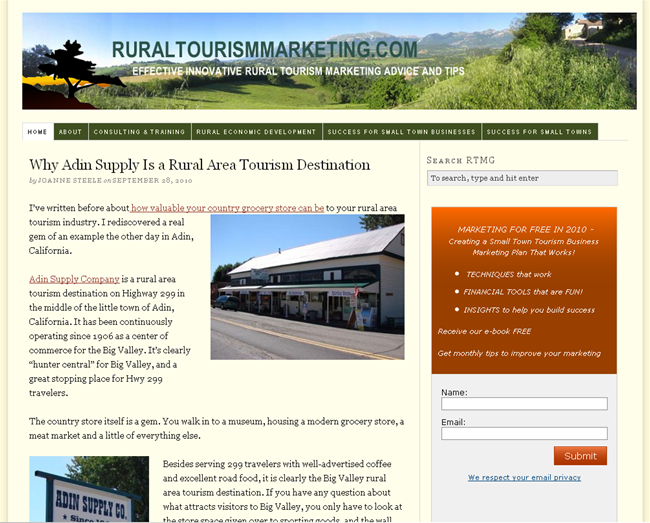 This is one of my favourite rural development/marketing sites, because I've download some free marketing tools and found some interesting links and articles here. Joanne Steele, the owner and CEO for this site, spent the past 14 years helping small tourism related businesses and rural communities develop clear, targeted and effective marketing programs on a very limited budget. Additionally, Steele helped small towns become more Internet-savvy to effectively compete in the greater tourism industry.
So, on Steele's site, you'll discover articles such as the one about saving time by using Google's new Priority Inbox, how to market in the age of social media (especially in down times – just replace the word, "town" with the word, "myself"), and another article on how to step into the mind of your customer.
This is a great site, also, for learning more about your potential rural customers. What are they using in social media? How are they using the Internet? What are some rural areas doing to attract customers and businesses? All this information can help you learn more about your smaller clients – and, by using the information on this site to gain knowledge about marketing smaller businesses, you can end up looking smarter than the big guys.
Linda Goin carries an A.A. in graphic design, a B.F.A. in visual communications with a minor in business and marketing and an M.A. in American History with a minor in the Reformation. While the latter degree doesn't seem to fit with the first two educational experiences, Linda used her 25-year design expertise on archaeological digs and in the study of material culture. Now she uses her education and experiences in social media experiments.

Accolades for her work include fifteen first-place Colorado Press Association awards, numerous fine art and graphic design awards, and interviews about content development with The Wall St. Journal, Chicago Tribune, Psychology Today, and L.A. Times.
Reviews
Be the first to write a review
You must me logged in to write a review.